With Imagine Music Festival approaching soon, September 19-22, the hype intensifies as we can't stop looking at the stacked lineup. We wanted to give you our Top 5 artists to see at Imagine Music Festival 2019.
1. Tipper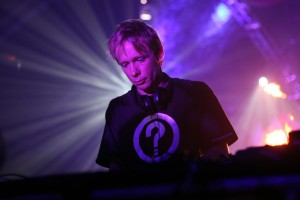 Tipper has been known in electronic music for years now and for good reason. The man is an absolute wizard when it comes to production. Creating sounds that do not seem to belong in this universe, he will twist your brain into knots as he throws the frequencies at you. Not to mention his perfection on the decks when performing live. With flawless transitions and skillful scratching abilities, this is our  #1 must-see for Imagine Music Festival.
2. Zeds Dead
Zeds Dead is a staple in the American EDM scene for offering a wide variety of quality electronic music. From dubstep to drum and bass to bass house, Zeds Dead is a duo who truly represents the #fuckgenres ideology. Their live performances have built a loyal fan base who travel far and wide to see the duo perform their incredible shows.
3. Rusko
Rusko is an absolute OG when it comes to dubstep. Speak to anyone who even remotely likes dubstep and I can just about guarantee they will have a strong connection to Rusko. Unfortunately, Rusko's journey in music had a scary bump in the road as he was diagnosed with stomach cancer in 2017. Being the man he is, he did not let cancer break his joyful spirit as he battled cancer and won. Now, he is back to slaying the decks with a new found drive. We all could not be happier and proud of the dubstep legends return.
4. Claude Vonstroke
Claude Vonstroke has in an essence taken over the house music scene that we know today. Owner of the highly respected Dirty Bird Music Label, Claude Vonstroke will be leading a Dirty Bird Takeover at Imagine Music Festival which is sure to have people dancing their worries away for hours on end.
5. Detox Unit
Detox Unit is a heavy hitter in the underground experimental bass realm. His incredible sound design and meticulous rhythms really have set him apart from others in the scene. Having close ties with Tipper, you know that this man is a straight professional when it comes to his music and live performances.
We couldn't be more excited to get to ATL for the Imagine Music Festival! Below you can find links to tickets and information!